Are you a first-time parent? Congratulation to both of you. Put your fears aside and enjoy the time. Nothing is more precious to you than your child.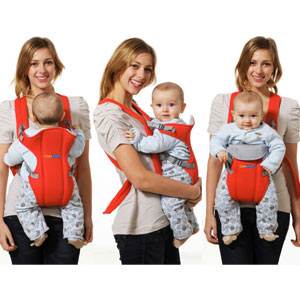 Baby carrier bag is a womb-like carrier, which is comfortable, durable, flexible and fashionable backpack for carrying and looking after baby. Specially when you go for office, for shopping, on family vacation or even take your morning or evening walk. It contains adjustable durable waistbelt for safer carrying. It is suitable for carrying 0-30 months old baby kid. It is made of high quality durable material, safe and exquisite design. It is very easy to operate and adjust it, flexible carrying position. It is made with breathable fabric that provides baby cool and padded. It is designed to support a baby comfortably in vertical position. You can carry your baby in 4 different positions with this baby carrier bag. It provides support to your waist and helps to carry your baby easily. But you have to use the baby carrier only when standing, walking or sitting. It is very light weight and travel-friendly. It is totally washable. You may wash with mild detergent and wash by hand is totally recommended. But washing with washing machine sounds much better.
If you are first time parents, then before putting your baby in the carrier, read the instructions given in the manual carefully. You must have to ensure that you are familiar with all procedures of carrying your baby with this bag. You should have to practice putting the carrier on and taking off. Do not forget to check all the buckles. Be sure that fastenings are securely closed and straps correctly fitted and adjusted before using the carrier. Keep in mind that the baby-carrier is not adapted for sporting activities. Please be careful if you bend or lean forward. Keep in mind that, you can not start using a baby carrier from day one. When your baby's age is around 6 months old, when they have a proper head, neck, hip, and bottom support, only from then you can use this carrier bag. Baby carriers are usually hard and gentle enough to give sturdy support for your growing child. You feel safe when you use a baby carrier.
It is made with plastic inserted padding which gives greater head and back support. The attached mesh padding in the bottom provides your baby's buttock more protection. Your baby can ride facing in or out. Its adjustable hardware ensures proper strap positioning for ideal weight distribution. It has head supporters, which provides head support moves up or down for best baby posture. Normally each baby carrier bag has the facility of 4 carrying position modes. These are called Chest way, kangaroo style, back carry, cross arm carries. It has a padded seat, which provides extra comfort to the baby a makes him feel like sitting on the sofa. It also features adjustable padded leg holes for maximum comfort in both leg positions. Keep in mind that do not lie down while carrying your baby in the baby carrier.
You can access the baby without disturbing her sleep. Also more comfortable for parents. But please make sure before putting that the baby's head is turned outward. You Should have to check your baby's head and neck to ensure that they are supported at all times. Baby carrier bag is the favorite baby product of most of the parents, no matter the type or brand. It is also great to use if you like hiking and want to carry your child along with you. But never carry your child in a baby carrier during sporting activities, such as running, cycling or skiing. Baby carrier bag is allow you to carry baby in many different positions. It is a must buy baby products for working parents.
Buy for your baby from a huge collection of Baby Carrier Bags at low prices on Ajkerdeal.com. It is available exclusively at Ajkerdeal.com. There are different types of baby carriers, so choose a model suitable for your baby according to your budget. AjkerDeal.com offers you the best quality baby carrier and trolly with home delivery service in Bangladesh.